beginning of content:
Practice Questions, Videos, and Resources for Improving Student Work
These free online learning modules feature:
New sample free-response questions teachers can use with students
Interactive scoring practice featuring responses from real students
Videos of master teachers modeling key instructional strategies for challenging skills and content
Resources to help teachers implement those strategies in their classrooms, and give students practice with the skills tested on the AP Exam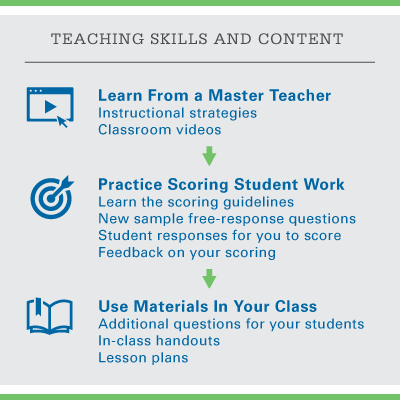 Access to Teaching and Assessing Modules
Modules are currently available for:
When logging in, teachers should enter their College Board professional account username and password. (This is the same username and password they use for their AP Course Audit accounts, online score reports, AP Insight, and other College Board websites.) When they first sign in, teachers are asked for their permission to allow the College Board to send their information to Academic Merit.
Get more information about accessing the site in these FAQs.
CEU Credits
Teachers receive a certificate of completion and 0.2 CEUs for each module completed. The self-paced modules are available at any time throughout the year.