beginning of content:
Before you start, talk with AP teachers and students at your school to find out how many exams are needed for each AP course. You'll also need to know the total number of students and the total number of AP Exams, if any, that qualify for 2019 fee reductions. Then follow these steps:
Sign in to the AP Exam Ordering website (make sure you're using one of the recommended browsers).
You'll first be asked to review important AP Exam administration policies. When you're done, click Proceed to Order AP Exams in the lower right corner.
You'll then be asked to enter your school's enrollment data. Enrollment data are used on various online AP score reports, such as the AP Equity and Excellence Report, which helps your school gauge the extent to which your AP program is providing equitable and successful AP experiences to your students. To calculate the percentages for this score report, we need you to report the total numbers of 10th–, 11th–, and 12th–grade students in your school. These totals should include all students in your school, not just AP students.

If you decide not to provide your enrollment data, the corresponding fields on your school's AP Equity and Excellence Report will be left blank. If you don't enter the enrollment data when you first log in, you can still enter the data at any time while the AP Ordering System is available by clicking the Enter Enrollment Data link on the AP Exam Ordering menu.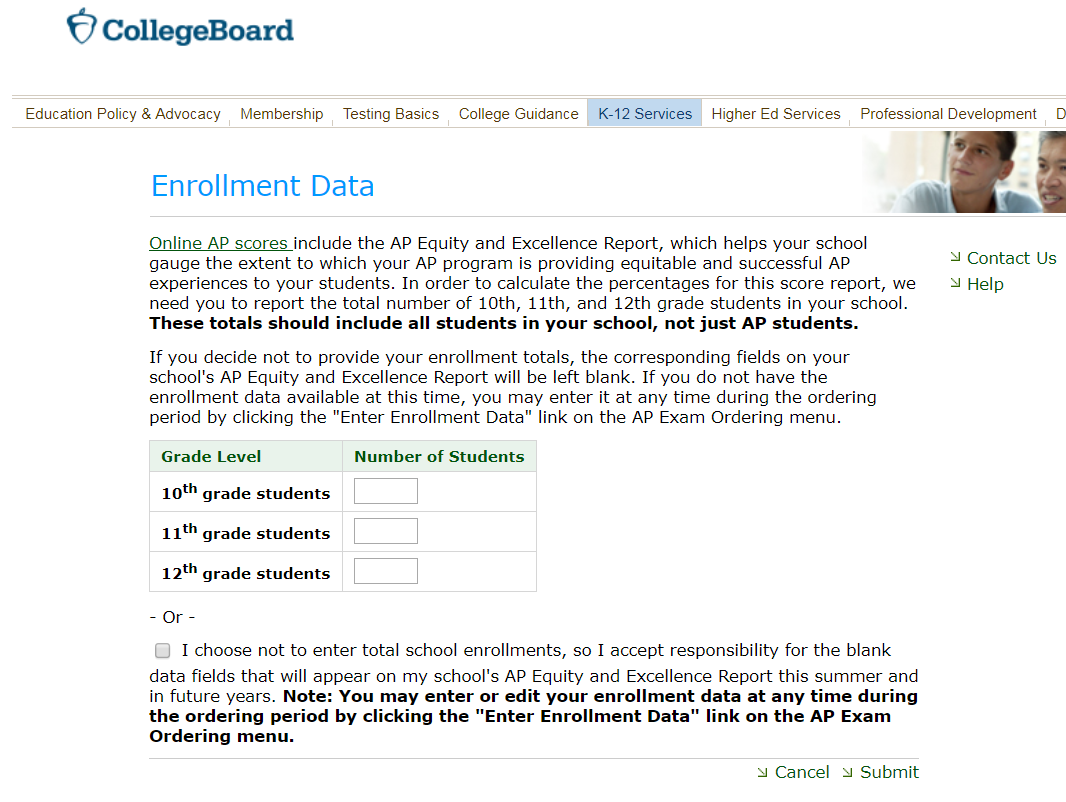 After entering your school's enrollment data (or choosing not to), you'll be asked to indicate if any of your AP students qualify for fee reductions for low-income students.
If you select Yes and click Submit, you'll be asked to enter the number of students and exams eligible for the College Board fee reduction. You'll also have to check a box to attest that the students meet eligibility requirements.
If you have no students who qualify for fee reductions, choose No and Submit.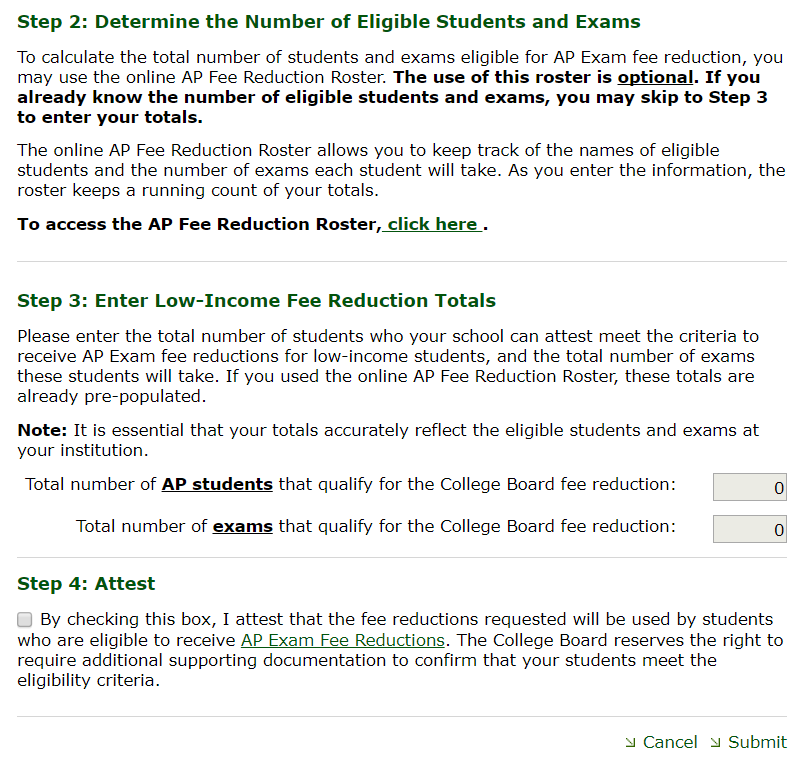 After submitting your fee reductions (or choosing not to), you'll be taken to the AP Exam Ordering home page. Click Create/Update AP Exam Order.
If you want to receive materials for a preadministration session, select Yes in the "Order Preadministration Materials" area near the top of the Order AP Exams page. (See also What is a preadministration session?)
Next, enter the number of exams your school will administer for each AP subject. If your school ordered AP Exams last year, this page also shows the number of exams ordered last year versus the number of exams actually used. (Note: Schools are charged an unused exam fee for each exam that's ordered but not used.)
Use the Sort by menu to see the AP Exams listed alphabetically, by date of exam, or grouped by academic discipline.
At the bottom of the page, enter the total number of students who will take the exams you're ordering. Be sure to include students testing with alternate exams (late testing) and/or taking AP Studio Art Exams, braille exams, multiple-day testing exams, assistive technology–compatible (ATC) exams and/or 14-point, 20-point, or greater than 20-point large-type exams, even though these exams aren't ordered on this page. Make sure to count students taking multiple exams only once.




Important: This number determines how many AP Student Packs your school will receive. Each AP Student Pack has a set of unique AP number labels that a student affixes to their exam materials. A student should receive only one AP Student Pack regardless of the number of exams they're taking.
If you order exams in French, German, Italian, or Spanish Language and Culture; Spanish Literature and Culture; or Music Theory, your order will include master CDs as follows:
French, German, Italian, and Spanish Language and Culture: one master CD for Section I (listening) and a double-CD set containing one master CD for writing, and a separate master CD for speaking.
Spanish Literature and Culture: one master CD for Section I (listening).
Music Theory: one master CD for Section IA and IIA (listening) and one master CD for Section IIB (sight-singing).

You'll need to order additional master listening CDs or master writing/speaking double-CD sets if:
You plan to administer the speaking or sight-singing parts of the exams in multiple rooms at one location.
You have students with disabilities who have been approved for extended time and will require separate testing rooms. You should order one set of master CDs for each student testing with extended time. (See Services for Students with Disabilities (SSD) for more information about testing accommodations.)
When you place your initial exam order online, you may request:
One additional master writing/speaking CD set or sight-singing CD for every 4 exams ordered.
One additional master listening CD for every 10 exams ordered.
If your initial order has already been processed or if you need more master CDs to facilitate the exam administration, contact AP Services for Educators.
Review your order and click the checkbox indicating you have reviewed your order.
Optional: To order alternate exams for late testing, click Create/Update Late-Testing AP Exam Order.
Optional: To order AP score labels or free-response booklets for your school, click Order Score Labels and Free-Response Booklets.